Back in the golden age of audio, namely from the 60s all the way into the 80s, there has been a great deal of high end audio gear. One of these pieces of gear are what is known as a vintage stereo receiver. Although vintage receivers are known to sound absolutely amazing, there are certain models that have been introduced over this golden age of audio. These models are some of the best vintage receivers ever to exist. Just be-aware as due to the popularity of these models, you will be paying to own them.
The Definition Of A Stereo Receiver:
A stereo receiver is essentially an integrated amplifier with a built in tuner. Some vintage receivers can have other built in components such as an 8 track player, a cassette deck, and even a turntable. 75% of all high end vintage stereo receivers have a built in tuner and a magnitude of inputs that a receiver can accept. Stereo receivers with less built in components often sound better although I've heard some really good multi component models. In this post however, I'm going to be focusing on the most legendary models that really showed just how obnoxiously powerful these very well-built beautiful stereo receivers have become. All four of these models were introduced during the height of the stereo receiver wars of the 1970s. The receiver wars started when in 1975 when the Federal Trade Commission enacted a law requiring anyone who manufactures any type of audio amplifier to cite the actual RMS power ratting. This was due to the fact that many manufacturers were citing fake numbers in order to harness sales. After this new at-the-time law, manufacturers could no longer stamp fake power ratings on their gear. This included receiver manufacturers like Pioneer, Marantz, Sansui, and Technics. This led to the stereo receiver wars where many manufacturers were trying to introduce their the most powerful stereo receiver in the attempt to outdo each other.
The Pioneer SX-1980 – One Word, Power: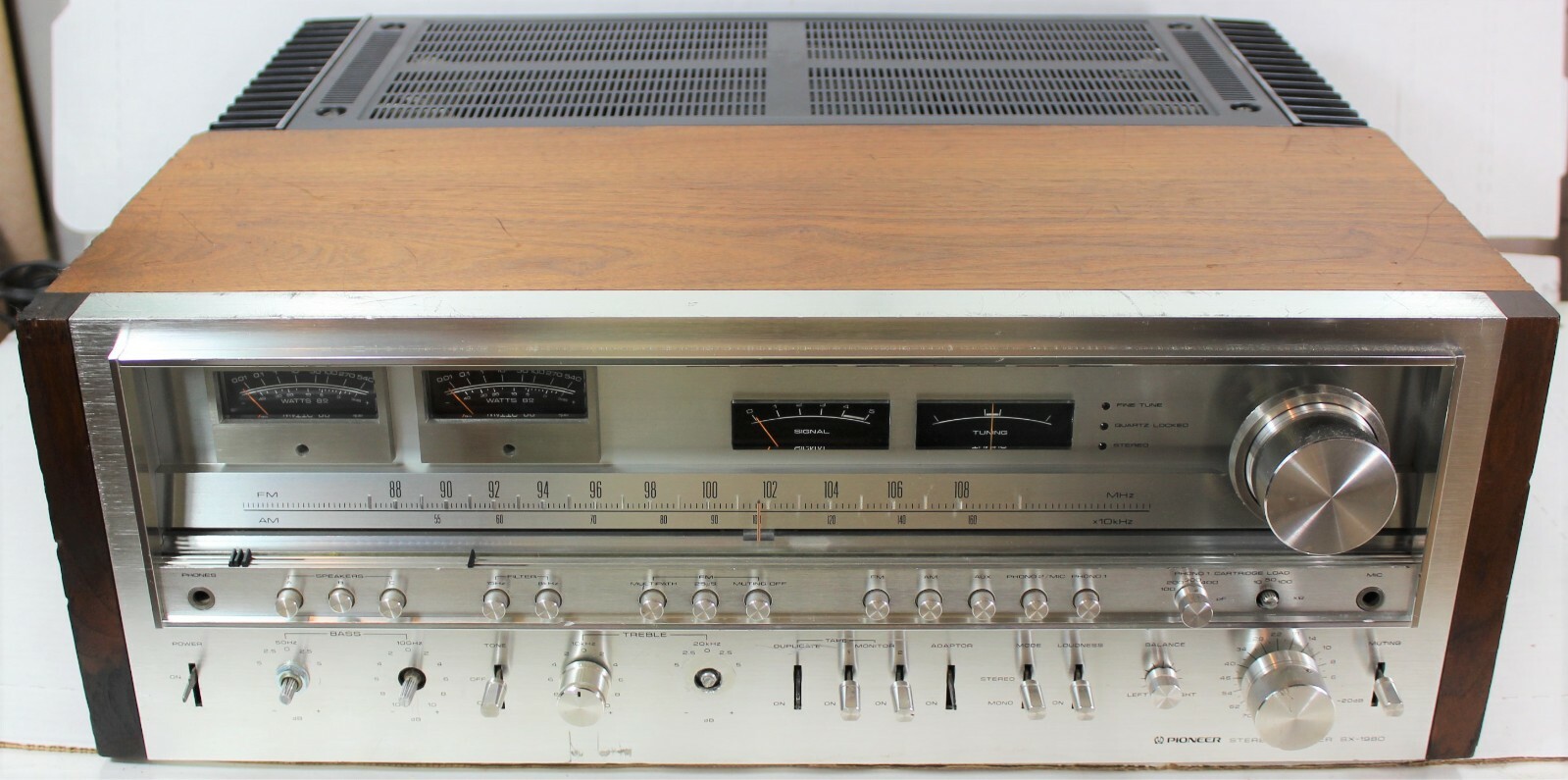 The Pioneer SX-1980 was introduced right at the peak of the stereo receiver wars in 1978. The Pioneer SX-1980 produces a conservative 270 watts RMS per channel at no more than 0.03% total harmonic distortion (THD). This huge power rating didn't come without it's downfalls. The SX 1980 retailed for just under $1,300. This was back in 1978! Adjusting for in inflation, that comes out to around $5,000 in 2019. Not only this, the SX 1980 weighed in at 78 pounds while being 22 inches wide, 19 and a half inches deep, and a height of 8.25 inches. The Pioneer SX-1980 was not only an absolute beast, it was and still is Pioneer's most powerful receiver to this day.
Marantz 2600 – Unique Look With A Touch Of Power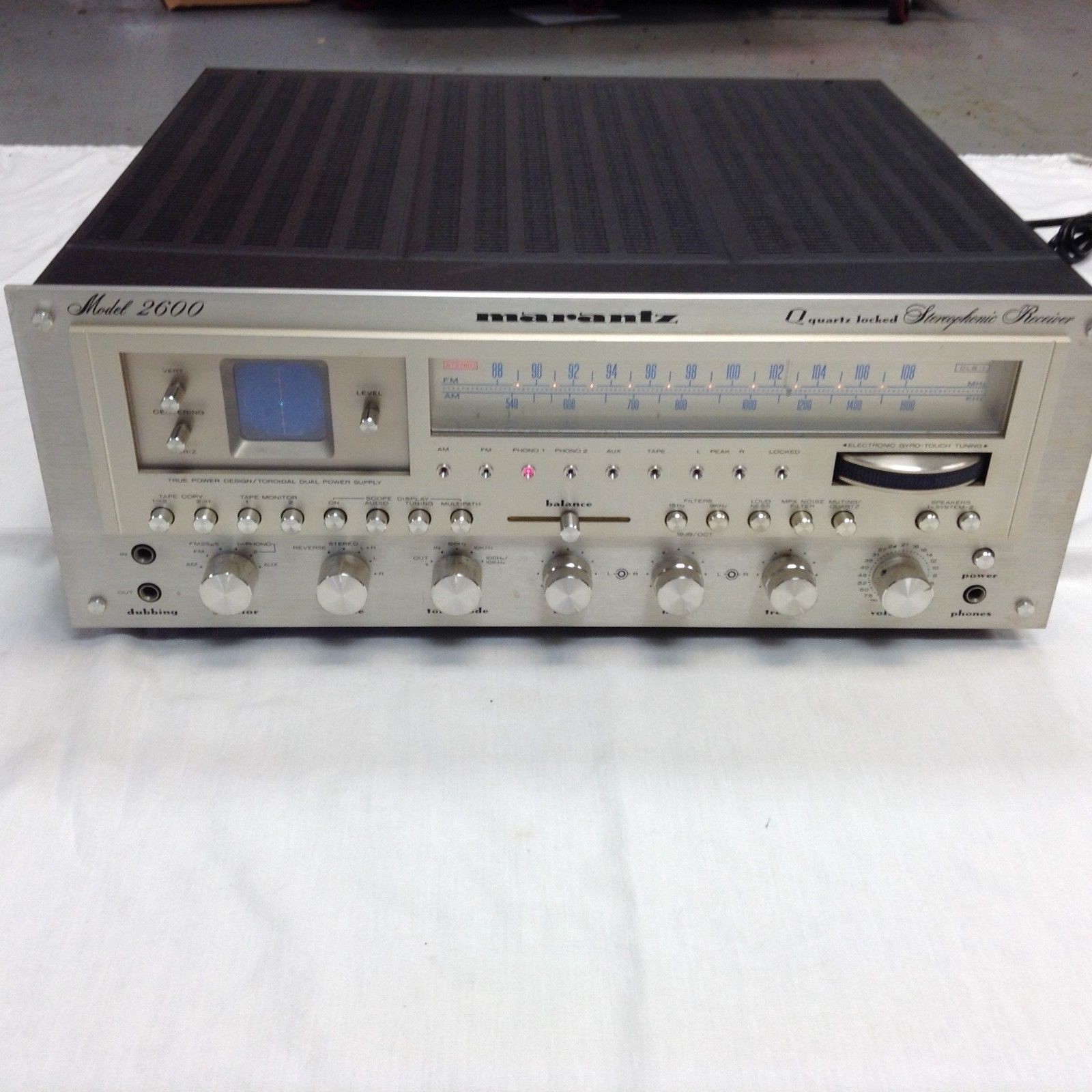 The Marantz was yet another brand participating in the stereo receiver wars of the 1970s. Marantz outdid Pioneer with an extra 30 watts per channel with their beautiful Marantz 2600. The Marantz 2600 weighs significantly less than the Sansui G-33000 at just under 60 pounds while still being able to pump out 300 watts per channel. With a THD of 0.03% at 300 watts for channel, the Marantz still sounds very good. Many have criticized the Marantz 2600 for sounding a little vague. The Marantz 2600 however is loved by many and regularly sell for over $5,000. Just look at that unique Marantz look. The Marantz 2600 looks like a work of audio art with it's optional wood case. The optional wood case is very rare and truly adds beauty and value to this beast.
Sansui G-33000 – Beauty Armed With Audio Power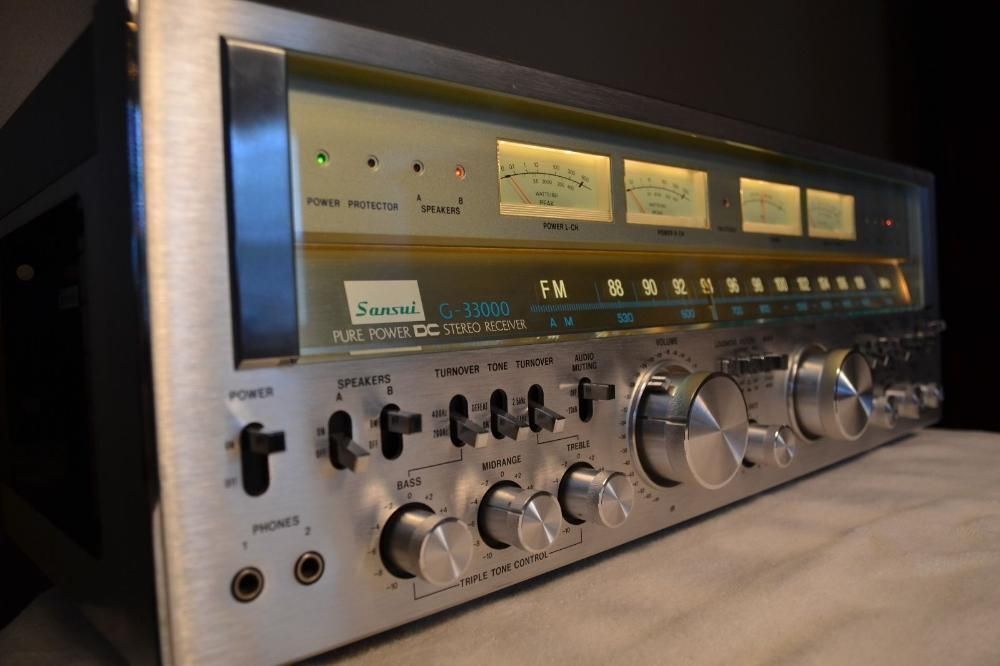 Just when you thought Marantz had won the stereo wars of the 1970s, Sansui took a stab at it. Their take on a stereo receiver not only meant power, it meant beauty. The Sansui G-33000 has an amazing symmetrical look to it. Not only that, Sansui had really payed attention to detail especially around the tuner dial. That light blue-tinted glow just speaks for itself. Sansui didn't cut any corners on design either. The Sansui G-33000 features separate power amplifier and pre-amplifier pieces that attach together as one. It is commonly argued that the Sansui G-33000 is not technically a receiver. I consider it one however as not only did both pieces come together, you can't use the power amplifier with any other pre-amplifier. One of my favorite aspects of the Sansui G-33000's design is the fact that all of the input/output connections and the speaker wire terminals are located on the sides of the receiver rather than on the back. This is a huge plus as this Sansui weighs in at just shy of 100 pounds. This weight however isn't just paper weight, the Sansui G-33000 is capable of 300 watts per channel with no more than 0.009% THD killing the Marantz 2600's THD of 0.03%. That is even more impressive than the Pioneer SX-1980. Even while stopping Pioneer and Marantz dead in their tracks in terms of power ratings, Sansui themselves were beat.
Technics SA-1000 – Take That Marantz and Sansui!
Technics was probably one of the most competitive manufacturers that participated in the 1970s stereo receiver wars. It's clear that they cut corners in terms of the Technics SA-1000's looks. Technics however did make up for it in the amplifier section. With 330 watts per channel with no more than 0.03% THD, Technics was the winner of this war. Although you more than likely not notice the 30 watt per channel difference, it did give Technics the lead. Technics themselves clearly were happy with their accomplishment as they were the only manufacturer that actually stated the rated power on the face plate of the Technics SA-1000. The Technics SA-1000 is believe it or not, the rarest receiver on this list. You will more than likely not find one for sale. If you do, it's not going to be cheap.
Out of these 4, my favorite is the Sansui G-33000
After all said and done, I have to say, Sansui had got everything right with the Sansui G-33000. Not only does it look absolutely beautiful, the Sansui G-33000 has the lowest total harmonic distortion of the other 3. The idea of separate pieces that attach to each other was also well-thought-out by Sansui. Although I would kill to have a Sansui G-33000, Sansui has also released smaller sister receivers to the Sansui G-33000. These include the Sansui G-9000 and Sansui G-8000 which I'm planning to own at some point. If I ever got the opportunity to buy a Sansui G-33000, I would in a heart beat. An audiophile like me would kill to own one. For now though, if you know of any receivers that I haven't mention, feel free to post them below in the comments section.